The Story behind our Recycled Plastic Benches
All our benches are made from recycled plastic sourced here in the UK.
The bench below is made from a unique recycled plastic wood or synthetic wood, or poly wood.
The more common material found everywhere these days is usually black or brown and is a Mixed plastic lumber made from recycled plastic milk bottles and the plastics generally collected from your recycling bin at home.
What we don't use is foreign recycled plastic brought in from Asia.
There's a strange story behind Asian recycled plastic and it isn't a green eco-friendly one.
Basically, the UK and Europe can often get more money selling waste plastic to Asian countries than selling it to processing plants here.
Actually the same goes for waste paper, but the reason given for that is that we don't have the machinery to recycled it economically over here. Mmmmm!!!?
But lets deal with one issue at a time... After the waste plastic has been cleaned up in Asia, it is sold back to manufacturing industries in Europe at a premium.
But transportation costs and the pollution involved do not make this a very green product. It has a massive carbon footprint and hidden costs. It isn't our idea of eco-friendly and for that reason we don't use it.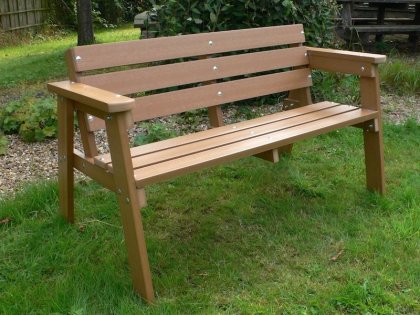 Our synthetic wood product is made from polystyrene cups, plates packaging etc. sourced in the UK.
Its that white material you see so often with fruit and vege, meat or fish packaged in it that you probably buy regularly in your local supermarket and CD cases and old plastic coat hangers.
The plastic wood used in our benches has to be produced first, so the waste polystyrene gets mashed up, colour pigments are added, and blowing agent to make it expand a little bit.
It is then extruded under pressure till it has a similar weight and density as a South American hard wood.
Like timber, it can be cut with power tools or by hand, and screwed, or glued with special glues/cement used for polystyrene.
When our designer discovered what he could do with this plastic wood he got very excited.
"Anything you can make out of wood, which is exposed to the elements, can be made with this material," he told us.
But there is a big difference.
This wood doesn't rot, needs no paint or toxic preservatives or varnish, and will last for decades - entirely maintenance free.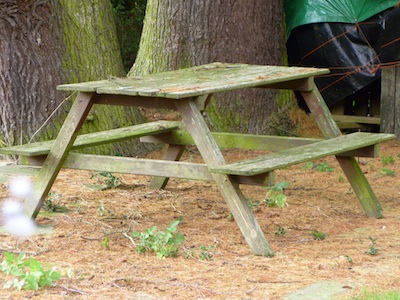 Wood benches suffer badly in our wet, damp climate, which is ideal for mould growth.
Unless a lot of regular maintenance and repairs are kept up, wood will warp, crack, splinter and be eaten by insects in a fairly short time.
Besides which, even 12 months exposed to British weather will leave any bench looking less than its best like the example on the right.
It doesn't take long to get to this unless you are prepared to do a lot of work regularly.
Not so with a recycled plastic bench.
It just sits there happily year in, year out, in all weathers, looking much like the day you bought it.
All you need do is clean it up once in a while and it will look like new again.
There is a slight weathering effect on a plastic wood bench, but it makes the plastic bench look even more like wood than it did already.
So you don't have to keep buying new cheap benches like those wood varieties sold in large quantities every spring and summer.
And you don't have to look forward to endless maintenance, and dragging your benches into the shed every winter, so you can't get the door open for benches stuck behind it.
Our Kedel Recycled plastic Wood Benches will last for decades and can stay outside in all seasons.
A lady we met at a trade fair noted our plastic wood and said that she had some. 7 years it had been used in a decking product. Her friends didn't know it wasn't wood, she told us.
One of our customers emailed a complaint about receiving a wood product instead of the maintenance free recycled plastic item she had ordered.
We didn't send any wood of course, so our Synthetic Plastic Wood really is very convincing.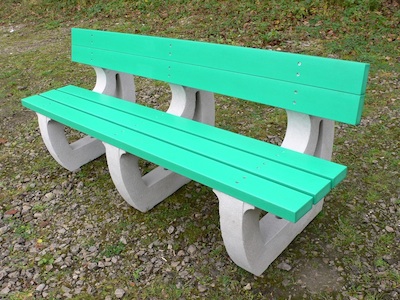 Incidentally, recycled plastic produces 250% less carbon dioxide during production than the manufacture of virgin plastic. Recycled Plastic Lumber Benches look like becoming the new standard for Garden, Park and Recreational Area Seating.
This will mean fewer trees cut down, which is great for reducing global warming, as trees are not only the earth's refrigeration system, but also consume huge amounts of carbon dioxide a major greenhouse gas contributing to global warming.
What you are throwing away in your recycling bins is making its way into our benches, so the recycling of plastic is quickly becoming a closed loop with less and less ending up in landfill.
But we have a way to go yet, as we only recycle 7% of the plastic we produce and landfill content is up to 30% plastics.
Besides the Polystyrene plastic wood we also make benches from a mixed plastic lumber.
It isn't as easy to get much variety in the colour of this mixed plastic and it usually only comes as black, white or brown and sometimes green.
Every time you buy one of our benches you are keep a lot of plastic out of landfill and making a positive step to reducing man's negative impact on the environment.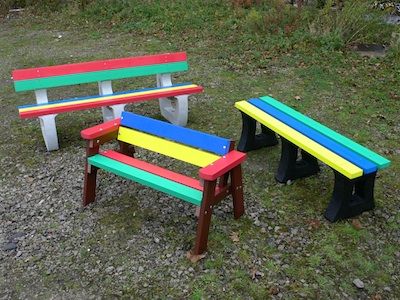 We can in fact make them in a variety of colours as in our rainbow furniture (see right) which is widely used now in school playgrounds and recreation areas.
We have managed to combine both products in some of our outdoor benches and garden furniture, and it seems to work well such as in our leisure and sports bench used at cricket and bowling clubs (See above).
You will also be saving yourself a lot of time, trouble, and money from reduced maintenance, repair and replacement costs.
We hope you will help us to make the world better by using more recycled plastic benches and recycled plastic picnic tables for your educational institutions.
Our green ethics have been very clear from the beginning of our business enterprise in January 2010.
You can read our green statement in full here.