WRAP Recycled Plastic vs Wood - Cost Comparison Study
WRAP* Study -
Whole life Costs Compared
Recycled Plastic vs Wood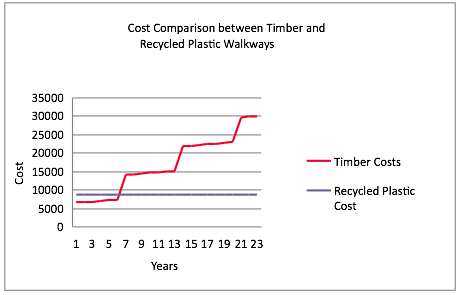 Typical Example
This example compares the whole life costs of Recycled Plastic to Wood in the construction of a walkway. These results equally apply anywhere that wood and recycled plastic would be permanently outdoors at the mercy of the elements, and even continuously immersed in water or exposed to wet conditions.
The Assumptions

Expect wood to be replaced approximately every 7 years. Maintenance on wood structures is generally required each year beginning after the 2nd year from initial installation. Inflationary figures are not calculated in this assessment. The average yearly cost of maintenance in materials and labour is estimated at £176 per annum.
Average Cost Estimate
Applies to 100 meters of walkway over the time shown:
Timber £1300 - Recycled Plastic £370 (prices current at time of this study)
Conclusions

Recycled plastic is higher initially, but the long-term, whole life costs are very significantly lower compared to treated wooden materials.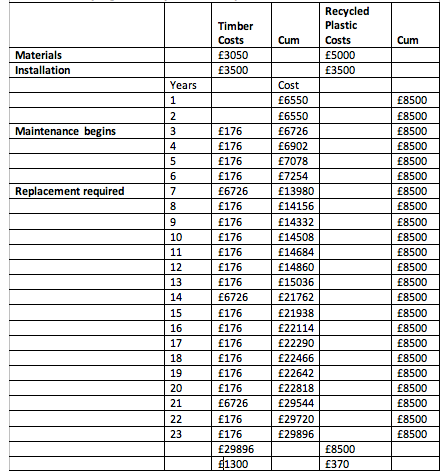 * WRAP is an independent body established and funded by all four governments across the UK and the EU and run programmes in England, Scotland Wales and Northern Ireland in 2000, to help establish recycling practices throughout the UK and to expand markets for recycled materials.
Popular Products

Thames Garden Bench - 3 Seater | Recycled Plastic Wood£285.83

A beautiful 3 Seater Garden Bench made from British Recycled Plastic. Fully assembled. Manufactured from recycled CD cases and old coat hangers. Does not warp, crack or splinter and no surface splinters for little fingers. The UV protected colours are embedded in the plastic during manufacture, so no need for painting. A unique maintenance free garden or recreational area bench.

Recycled Plastic Wood - Synthetic Wood - T&G - (W)100 x (D)18mmFrom: £11.63

These Synthetic Wood Tongue and Groove 100x18mm boards come in various colours such black, light oak, mahogany, cedar, white, pebble grey and anthracite grey. And have the highest level of UV protection. Great for gates and gate inserts.

Recycled plastic lumber - mixed plastics - Tongue and Groove - 147 x 34mm£20.15

Eco-friendly, maintenance-free tongue and groove boards that are ideal for a variety of applications and will last, at least, 25 Years.

Recycled Plastic Lumber | Mixed Plastic | Roofing Batten - 50 x 25mmFrom: £4.51

Roofing battens to last. Made from 100% recycled UK plastic. Also used for studding under cladding and many other battening applications.