WRAP Recycled Plastic vs Wood - Cost Comparison Study
WRAP* Study -
Whole life Costs Compared
Recycled Plastic vs Wood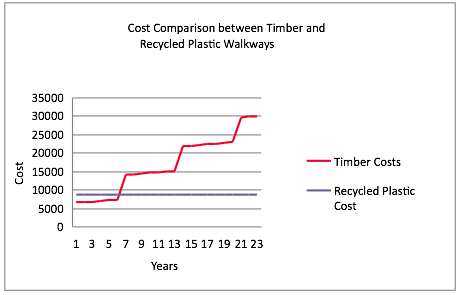 Typical Example
This example compares the whole life costs of Recycled Plastic to Wood in the construction of a walkway. These results equally apply anywhere that wood and recycled plastic would be permanently outdoors at the mercy of the elements, and even continuously immersed in water or exposed to wet conditions.
The Assumptions

Expect wood to be replaced approximately every 7 years. Maintenance on wood structures is generally required each year beginning after the 2nd year from initial installation. Inflationary figures are not calculated in this assessment. The average yearly cost of maintenance in materials and labour is estimated at £176 per annum.
Average Cost Estimate
Applies to 100 meters of walkway over the time shown:
Timber £1300 - Recycled Plastic £370 (prices current at time of this study)
Conclusions

Recycled plastic is higher initially, but the long-term, whole life costs are very significantly lower compared to treated wooden materials.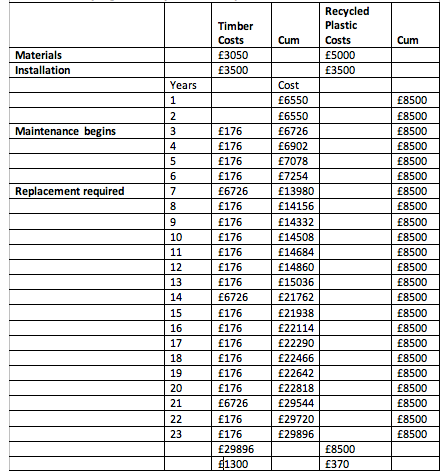 * WRAP is an independent body established and funded by all four governments across the UK and the EU and run programmes in England, Scotland Wales and Northern Ireland in 2000, to help establish recycling practices throughout the UK and to expand markets for recycled materials.
Popular Products

Multicoloured Tees Bench - Garden/Park - No back - Recycled PlasticFrom: £127.00

A simple, robust outdoor bench for school playgrounds, recreational areas,community play areas or a private garden. Anywhere children sit or play. Will never rot and lasts for generations. Recycled plastic throughout.

Recycled Plastic Lumber - Mixed Plastic Boards - Ultra - 150 x 25mm£19.17

Recycled Plastic Planks 150 x 25mm - A popular profile used for raised beds, planters, garden edging, fascia boards, barge boards, and quayside buffers. Tough, solid board that will never rot or need preservatives or paint

Recycled Plastic Wood - 'Tear Drop' T&G - (W)100 x (D)18mmFrom: £11.63

Kedel's Tear Drop Tongue and Groove boards/profiles will never rot, warp, splinter or crack. They are UV protected to the highest standard to minimise fading. A far more cost effective material compared to wood. Comes in various colours and is made from crushed recycled CD cases.