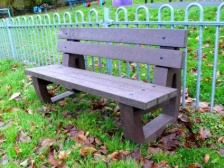 Bradley Garden / Park Bench - Recycled Plastic£448.00
This recycled plastic garden or park bench is extremely robust and no lightweight, so it won't blow away or be carried off. One of our Directors tried to lift one and thought it was bolted down. It will never rot or need annual maintenance of any kind. Remove graffiti with normal household cleaners or WD40.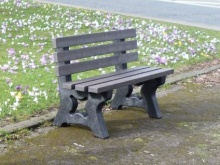 Irwell 2 seater recycled plastic garden bench£371.00
The Irwell 2 seater Bench is the smallest of our Irwell Range but just as tough and maintenance free as the 3 seater and 4 seater versions. Just fits neatly into a smaller space.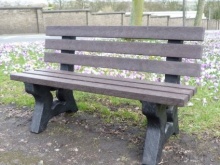 Irwell 3 seater recycled plastic garden bench£438.00
A tough Bench in recycled plastic named after the River Irwell. Like our recycled plastic benches rivers are a great example of infinite loop recycling. Your recycled plastic Irwell Bench will outlast any wooden equivalent by decades and hardly show its age at all. Never rots, never needs paint. Looks great and unlike metal benching is warm as wood to sit on. Does not absorb any water so just wipe off after rain and sit down on a dry bench immediately.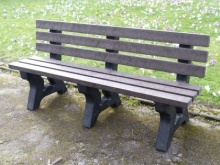 Irwell 4 seater recycled plastic garden bench£534.00
The 4 seater Irwell bench named after the river Irwell. Built to last and with a more ornate, stylish foot. Maintenance free.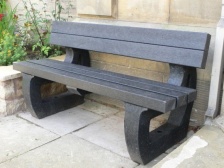 Recycled Plastic Garden Bench 3 Seater Colne by Kedel£443.00
Colne 3 seater bench in recycled plastic lumber and moulded bench ends. Extremely robust! Never needs paint, does not warp, crack or splinter. Will never rot. When all the wooden benches have rotted away this bench will still look much the same as it did when new. Excellent value for money.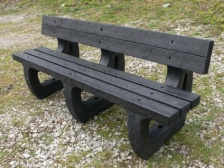 Recycled Plastic Garden Bench 4 Seater Colne by Kedel£544.00
A 4 seater version of our most popular moulded end recycled plastic bench - The Colne 4 seater bench.