No more rot - Recycled Plastic Wood Picnic Tables have arrived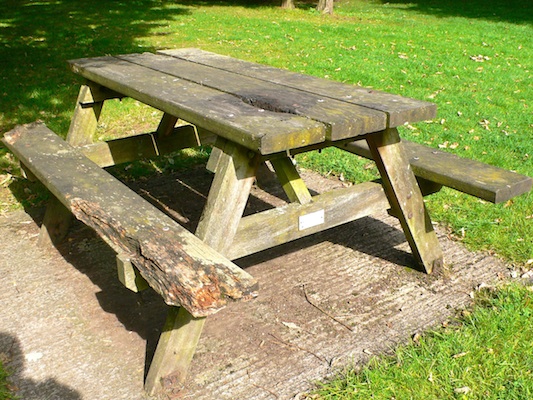 The rotten picnic table on the right is in Shibden Park in Yorkshire, and there are many more like it around the country in Schools, colleges, nurseries, hospitals grounds and other country parks.
They are rotting because they are made of treated or treated wood.
In spite of this they are a blot on the landscape, and often unusable and unrecoverable.
The maintenance programmes around the country have been cut, and the future looks pretty bleak in the picnic bench world.
But there is a new arrival on the horizon in the form of recycled plastic picnic tables of all shapes and sizes.
30% of landfill is full of plastic and we only recycle about 7% of the plastic we consume.
We think it's a shame, and our business is an attempt to do something about it as well as make a living.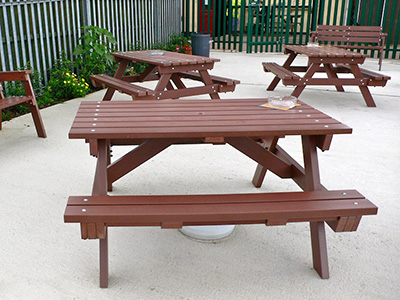 Recycled plastic picnic tables and benches never rot, do not entertain mould, which will either wipe off with a cloth or can be jet washed off, will not warp, or crack in the cold and have no splinters to damage little fingers.
They come in all shapes and sizes as you will see in our picnic table pages.
Recycled plastic wood and recycled mixed plastic lumber, that we use to make our picnic tables in the UK, is also very hygienic and easy to clean as it is non-absorbant.
The coloured picnic tables often used for Schools, like the one show on the lower right is UV protected against fading, and will maintain these bright vibrant colours throughout its life, which will be for many, many generations.
It will continue to look like new throughout its life, needing only the occasional wipe over with soapy water and household detergent.
Recycled plastic may not sound very appealing when you first hear of it, but our products are not the kind of cheap plastic of the past.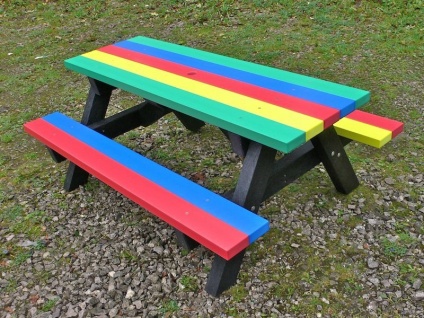 Kedel plastic wood is made from recycled polystyrene and manufactured to have the same weight and density as many South American hard woods.
So you can still enjoy the traditional look and feel of wood, but have all the durability, and robustness of plastic.
We have customers who have been so convinced that the product we sent them was made of wood instead of recycled plastic that they wrote and complained about it.
This Recycled Plastic Wood is very realistic and reassuring.