About Us: The People at Kedel Limited
L
et's tell you a bit about the people who created this company, and the team of enthusiastic professionals who support them to make Kedel exceptional at what they do.
It's a family business conceived by 3 Bolton brothers, Kieran, Dermot and Lewis Walch, who had never worked together till 2009.
They all happened to find themselves at a turning point in their lives, and discovered they had an ideal combination of complimentary skills.
After initial market research carried out by Business Link in 2009, they launched into the recycled plastics business with a compost tumbler in January 2010.
The company name 'Kedel' is a combination of their first names–an idea contributed by Kieran's wife Sue.
Dermot Anthony Walch, the Managing Director, lives in Hipperholme nr. Halifax and is married to Julie, a beautiful, intelligent Brand Manager at FGH UK.
They have two smart young children, who following in their parents footsteps, excelling in everything they do both academically and in sports.
Dermot was a Manager at Ladbrokes for about 10 years before returning to college to gain an excellent degree, a BA in Performing Arts and Business Management. He also holds a CIM (Chartered Institute of Marketing) diploma.
At CragRats in Yorkshire, a company employing actors in training roles for business and education, his marketing strategies took the company from a £600,000 a year turnover to £6 million in 3 years, winning contracts with the Ministry of Defence, Aviva, RBS, the DWP and Rank Xerox.
He later joined the Wesley Group, an industrial pressure washer company in Leeds, where he rebranded the company increasing sales by 50% in 12 months.
Otto UK, who own Freemans and Grattan Catalogues, are probably the biggest mail order company in the world. Dermot was a senior Marketing Planner there, predicting what clothing item would sell in what colour, size and quantity, so accurate stocks could be manufactured to meet expected sales volumes.
After reorganisation of Otto UK he was made redundant, and though he was energetically pursued by headhunters for several months, he eventually teamed up with his brothers Kieran and Lewis to found Kedel Limited. His managerial, sales and marketing acumen have been vital to the company's phenomenal growth.
Kieran William Walch, the Design and Production Director lives in Trawden near our manufacturing unit in Colne, and is married to Sue, a no nonsense Ex NAAFI professional–a dynamic dynamo, bursting with energy, who runs our shipping department with the power and precision necessary to keep orders flying out the door every day.
Kieran, though equally dynamic, is an ideas man, with many years of experience in

building and construction

.
In his youth he ran his own diamond cutting and drilling business and personally cut the holes in Manchester's Trafford Centre where the escalators now stand.
When he found himself redundant his industrious nature did not allow him to let the grass grow under his feet, and he came up with 'The Compost Creator', Kedel's first product.
He made it in his back garden. It has a recycled plastic base, and a used food grade screw top barrel, reclaimed from the food industry . It turns on a central spindle to mix the compost easily. Together with Dermot they successfully test marketed it on eBay.
The Beastie Box (you see him working on it here) was another neat idea he came up with, to help teach the KS1/2 Mini Beastie Education Project in schools and nurseries. It has a raised bed, a corner for insects, a butterfly box, solitary bee box, bird table, and integral seating round the edge, all made in maintenance free plastic wood. It sold like hot cakes during Morrisons 'Lets Grow' Campaign for Schools' and we were taken by surprise at the volume of orders.
Having gained momentum from these early successes Kieran got to work adding new products in rapid succession: Garden Benches and Seats, Picnic tables including some with wheelchair and pushchair access, and multicoloured picnic tables using our plastic wood extruded planks with the heavier duty mixed plastic profiles for the legs. These proved very popular in the education sector, along with a variety of raised beds and planters, role play phonic kitchen units for the outdoor classroom, and play dens. The latter used HDPE multicoloured sheet (up to 80% recycled) with related words etched into the sides, for learning to read through association.
Kieran is wired for innovation, always looking for better ways of doing things.
When running his diamond cutting and drilling business he came to the notice of Hilti, who he advised on the design for their drill bits for drilling different materials. These design features were incorporated into some of their most successful products.
Kieran never stops learning new tricks and implements changes to our machinery and product designs using a lifetime of experience working directly with materials and tools. It is no surprise that he has masterminded the development of an innovative method of processing old CD cases to produce Kedel's high quality synthetic wood or plastic wood profiles, ideal for multiple applications in the building and construction industry.
In addition to his own innovative plastics research he manages our production team, including our state of the art CNC cutting machine and services, our design team, and the recycled plastic extrusion lines.
Kieran has made himself an expert in extrusion in just a few years, to the point that he can strip the machinery down and carry out routine maintenance himself, as well as recognising when the so called experts are not doing their jobs properly. Kieran is a man who likes to see the job, do the job and stay out of the misery. He enjoys his work and understands both the needs of staff as well as ensuring they do a good job.
Lewis John Walch, the Company Secretary, Customer Service and IT Manager, is the oldest of the 3 brothers, and tends to take it as it comes. He favours a lighthearted approach to life with a belief that anything is possible.
His experience includes customer service, IT and graphic design, and in addition, he is a qualified teacher of meditation. He says that meditating keeps him sane, which would not otherwise be possible when working with his two younger brothers. Evenings and weekends he still teaches and lectures on meditation regularly in Bolton and around the Northwest.
For over 40 years he worked for an international educational charity receiving only food and board. Getting paid for doing what he enjoys is a bit of a novelty he says. His graphics and IT skills were self taught out of necessity. When funds were short for charity projects he would be called on to carry out a wide variety of roles - repairing machinery, designing brochures, maintaining the computer network, shooting and editing video, providing IT training to his colleagues, cooking vegetarian food for banquets of over 200 people, and then entertaining them to both classical and folk vocals with his beautiful counter tenor singing voice.
Lewis has designed and currently maintains Kedel's three websites, kedel.co.uk, kedeleducation.co.uk and kedeltrade.co.uk, and has discovered some additional useful skills in product photography, video and creative writing.
In the 80s Lewis was asked to go to the USA to handle some difficult customer service issues for 'The Cashmere Company', a highly successful UK based company, selling ladies Cashmere Woollen goods by mail order in the UK and USA.
The US already had a well established online ecommerce market, and Lewis refers to this introduction to the high expectations of US customers as a baptism of fire.
Bringing a wealth of experience he now manages customer service issues for Kedel, keeping customers happy and maintaining the kind of customer relationships that inevitably lead to repeat orders.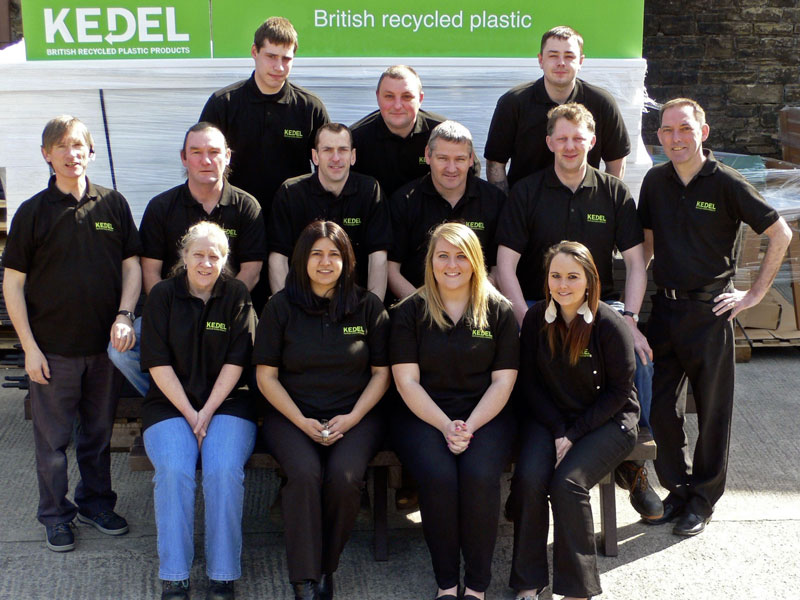 The Kedel Team: Kedel have been very fortunate in the quality of their staff. The complete team of Kedel staff members seen here is bursting with talented, innovative thinkers, creative designers and engineers, professional organisers and lightening fast joiners, whose skill and pride in their work is second to none.
They love their work and recognise that Kedel is not just individuals working in isolation, but a team, a family that support one another to get the job done to a high standard.
On the shop floor they quality check each others work, in contribute to a process of continual development and improvement of our products, and their daily banter has the flavour of a family rather than a faceless multinational.
If you don't believe it, you can always pay us a visit in Colne. Just call 01282 861325 or e-mail to let us know you are coming, and we'll give you directions and put the kettle on.