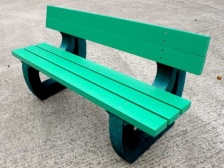 Colne 3 seater Sports / Leisure Bench Recycled Plastic£410.57
Like the Colne 4 seater sports leisure bench this 3 seater version is perfect for outdoor use in recreational, sports, park and play areas. This recycled material does not absorb water, so a quick wipe after rain and you can sit right down without getting damp. The green seat slats look and feel just like wood but contain none and will never rot or need paint.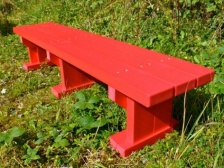 Derwent Junior Seat / Bench - Recycled Plastic WoodFrom: £189.00
A junior bench in maintenance free recycled plastic made to attract children using colour. A high-quality long-life product and a great investment. Will not rot, perfect for child friendly environments. Will still be there decades after all the wooden benches have rotted away.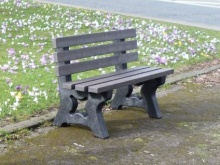 Irwell 2 seater recycled plastic garden bench£371.00
The Irwell 2 seater Bench is the smallest of our Irwell Range but just as tough and maintenance free as the 3 seater and 4 seater versions. Just fits neatly into a smaller space.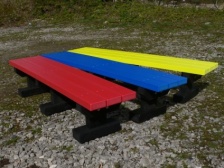 Junior 3 Seater Multicoloured Tees Bench - No back - Recycled PlasticFrom: £147.64
A simple, robust outdoor bench for school playgrounds, recreational areas,community play areas or a private garden. Anywhere children sit or play. Will never rot and lasts for generations. Recycled plastic throughout.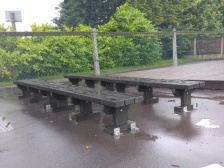 Junior 3 Seater Standard Tees Bench Recycled Plastic£204.00
Our standard Junior Tees Bench in recycled mixed plastic is also available available in bright primary colours. Apart from cleaning occasionally, this is a robust no maintenance seat, ideal for young children. Will look great throughout its long life, with no painting or other maintenance headaches. The perfect cost effective seating for school playgrounds, recreational areas, community play areas or private gardens. No splinters for little fingers.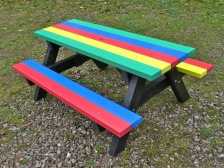 Junior Multicoloured Picnic Table Ribble Range Recycled PlasticFrom: £383.41
A fun looking multicoloured picnic bench specifically made for children and their friends to enjoy. Available in Red, Blue, Green, Yellow and Multicolours.