Rainbow Furniture Range - Multicoloured Recycled Plastic Outdoor Classroom Furniture
We call it Rainbow Furniture because it's available in UV stable, bright, attractive colours, that appeal to children because it makes everything feel like play.
School Furniture that children can play with and yet has an educational element is, as any teacher will tell you, an excellent teaching aid.
Some designs in our rainbow range have special educational value for learning to recognise words and associate them with particular activities, such as the Kitchenphonic Range of Outdoor Kitchen Units.
These proved so popular with the children during the product photo shoot, that it was difficult to persuade them to leave their kitchen play and try any of the other products to be photographed that day.
As you can see on the right, both sides of these maintenance free kitchen units have appropriate words related to that unit's use etched into the side panels.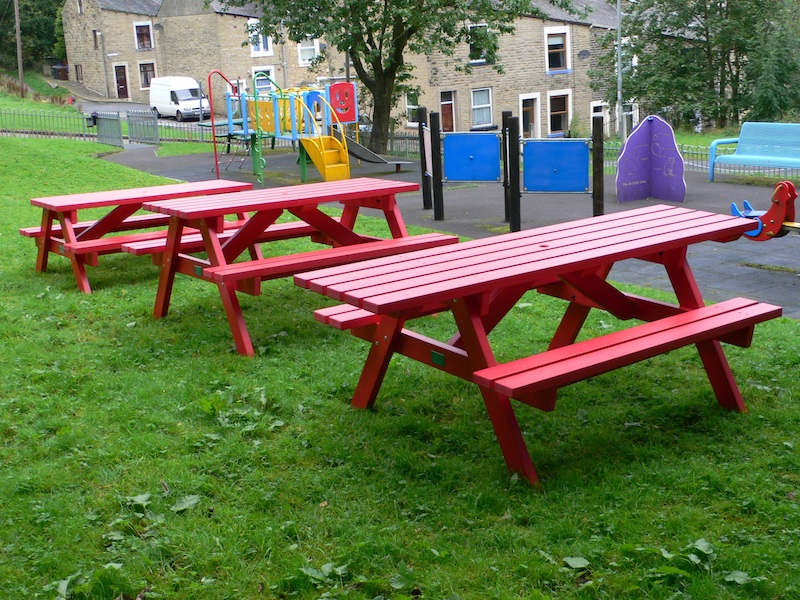 These colours will not fade appreciably over the life of the product even if left outside in direct sunlight for long periods. The UV protection is 7 or 8 where 8 is the highest value available.
All our rainbow furniture is intended to last for decades, is robust, will never rot, is shunned by insects and mould will not adhere. Graffiti can be wiped off with normal household cleaning materials or WD40.
They are non absorbent and therefore very hygienic, and their are no splinters for little fingers.
The play dens, seats, picnic tables and benches can be wiped dry with a towel after rain and used immediately without fear of damp bottoms.
You can order direct from us on this website, or if you have questions about any of our recycled plastic rainbow furniture or special requests for bespoke items, please give us a call on 01282 861325, e-mail or fill out our enquiry form for a quick response.