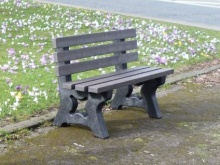 Irwell 2 seater recycled plastic garden bench£371.00
The Irwell 2 seater Bench is the smallest of our Irwell Range but just as tough and maintenance free as the 3 seater and 4 seater versions. Just fits neatly into a smaller space.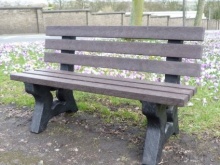 Irwell 3 seater recycled plastic garden bench£438.00
A tough Bench in recycled plastic named after the River Irwell. Like our recycled plastic benches rivers are a great example of infinite loop recycling. Your recycled plastic Irwell Bench will outlast any wooden equivalent by decades and hardly show its age at all. Never rots, never needs paint. Looks great and unlike metal benching is warm as wood to sit on. Does not absorb any water so just wipe off after rain and sit down on a dry bench immediately.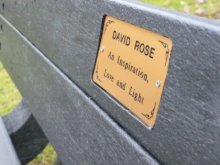 Remembrance Plaque - Memorial Plaque - Sponsors Plaque£49.00
All our products can have one of these brass effect memorial plaques with up to 35 words. A great way to honour or remember someone special. The brass effect is embedded in the plastic plaque and is less prone to tarnishing. Cost includes cutting of a neat rebate to fit your plaque in your outdoor furniture during manufacture.