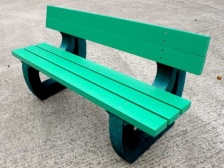 Colne 3 seater Sports / Leisure Bench Recycled Plastic£410.57
Like the Colne 4 seater sports leisure bench this 3 seater version is perfect for outdoor use in recreational, sports, park and play areas. This recycled material does not absorb water, so a quick wipe after rain and you can sit right down without getting damp. The green seat slats look and feel just like wood but contain none and will never rot or need paint.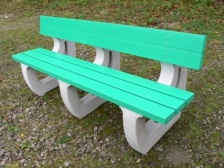 Colne 4 seater Sports / Leisure Bench Recycled Plastic£526.83
This recycled plastic bench is just the thing for a sports ground or leisure centre.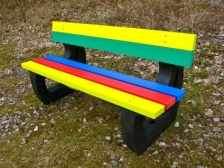 Colne Rainbow Bench Garden Bench Multicoloured Recycled PlasticFrom: £410.57
Available in Highly Visible Bright Colours and Highest Level of UV Protection - keeping it looking brand new for decades.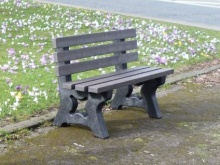 Irwell 2 seater recycled plastic garden bench£371.00
The Irwell 2 seater Bench is the smallest of our Irwell Range but just as tough and maintenance free as the 3 seater and 4 seater versions. Just fits neatly into a smaller space.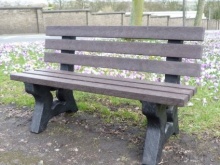 Irwell 3 seater recycled plastic garden bench£438.00
A tough Bench in recycled plastic named after the River Irwell. Like our recycled plastic benches rivers are a great example of infinite loop recycling. Your recycled plastic Irwell Bench will outlast any wooden equivalent by decades and hardly show its age at all. Never rots, never needs paint. Looks great and unlike metal benching is warm as wood to sit on. Does not absorb any water so just wipe off after rain and sit down on a dry bench immediately.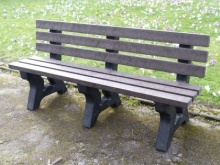 Irwell 4 seater recycled plastic garden bench£534.00
The 4 seater Irwell bench named after the river Irwell. Built to last and with a more ornate, stylish foot. Maintenance free.