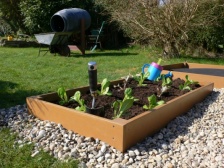 Plastic Wood Raised Bed Recycled PlasticFrom: £49.99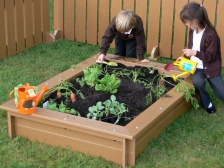 Delux Raised Bed (L)1.4 x (W)1m x 260mm with Seat Surround£249.99
This 1.4 x 1m raised bed is specially designed for the outdoor classroom. Has ample seating for small children all round the edge. Made entirely from recycled plastic. Does Not Rot. Matches our Mini Beasties Box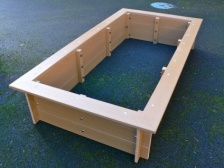 Delux Raised Bed with Seat Surround - British Recycled Plastic£449.99
An ideal raised bed for the outdoor classroom. Does not rot. Lasts a lifetime.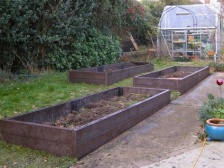 recycled mixed plastic raised bedsFrom: £194.00
Robust Recycled Mixed Plastic Raised Bed in Black or Nut Brown. Widely used in community allotments and educational institutions nationwide. A long life product with no maintenance headaches. Does not rot. Available in 3 sizes and three heights.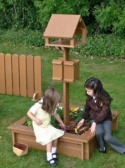 Beastie Box Recycled Plastic£559.00
This (recycled) Plastic Wood Beastie Box was design especially for the KS1/2 Mini Beastie Education Project for schools and nurseries. It combines a Raised bed with seat surround for outdoor lessons, an Insect Box, Bird Box, Solitary Bee Box and Butterfly Box all in one unit. It will never rot, graffiti is easy to remove with very fine wire wool and WD40 and it looks good without maintenance or paint for decades.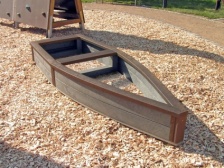 Children's Recycled Plastic Adventure Ship Sand Box / Raised BedFrom: £843.89
A simple robust adventure ship to stimulate creative role play. Add sand to use as a sand box or soil for a raised bed. Made from heavy duty recycled plastic this is a piece of outdoor play furniture that will never rot, and no splinters for little fingers. Perfect for nurseries and kindergartens. No maintenance needed.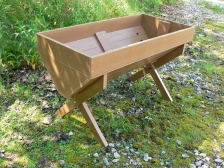 Cradle Bed - Planter - Recycled Plastic - Plastic Wood£279.00
A Cradle Raised Bed at a height that means you won't have to bend down to tend your plants, and made in British Recycled Plastic, a totally maintenance free material, synthetic wood or plastic wood that will never rot, and stay looking good for decades.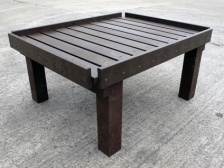 Potting Table Recycled PlasticFrom: £305.00
An indestructible potting table. Never rots. Guaranteed for 25 years against rot or fading but can be expected to last much longer.