Delivery Policies
* Please note that customer collections from our Burnley unit are by special arrangement only.
Please call 07305 383694 before coming to collect.
NOTE REGARDING COVID-19
We are following strict government guidelines to keep our employees and our customers as safe as possible. The Covid-19 virus hasn't stopped us working yet. So you can order with Confidence from Kedel! However, please be aware that we are experiencing unusually high volumes of orders, plus Royal Mail and hauliers report up to 5 times more packages than normal. Delivery times given are therefore our best estimates. Customer collections from our Burnley unit are by special arrangement only. Please call 07305 383694 before coming to collect.
HOW WE SHIP OUR PRODUCTS
We ship our products in either used cardboard boxes for flat pack and partially assembled products, or on pallets for large and fully fabricated items. Re-using cardboard boxes is even better than using recycled cardboard, as it saves delivery costs, manufacturing costs, energy costs and reduces the pollution associated with all of these.
DELIVERY OF ITEMS IN STOCK
Where we have products in stock we aim to deliver all goods in 5–7 working days. If the product is too bulky, or if your order quantity is large enough, your order may need to be sent on a pallet. If goods need to be sent on a pallet we aim to deliver in 7–10 working days.
DELIVERY OF ITEMS NOT IN STOCK
Items that are not in stock at the depot can take longer to deliver. Fabricated items such as furniture, including benches and picnic benches, products requiring CNC work and the production of plastic wood will normally take 4-6 weeks but are currently taking longer due to exceptionally high order volumes. We inform will you by email when your goods are dispatched and on the way. Please call if you need more details.
PALLET DELIVERY
If the goods are sent on a pallet and are less than 2 metres in length they can usually be unloaded from the delivery vehicle using a tail lift. If the pallet is longer than 2 metres or in other exceptional circumstances, the pallet will need to be unloaded using unloading equipment such as a fork lift truck. It is the customer's responsibility to provide this equipment. Alternatively, the goods can be hand-balled off, but it is the customer's responsibility to arrange this. If you wish to discuss your delivery requirements with us, please call on 01282 861325 option 1.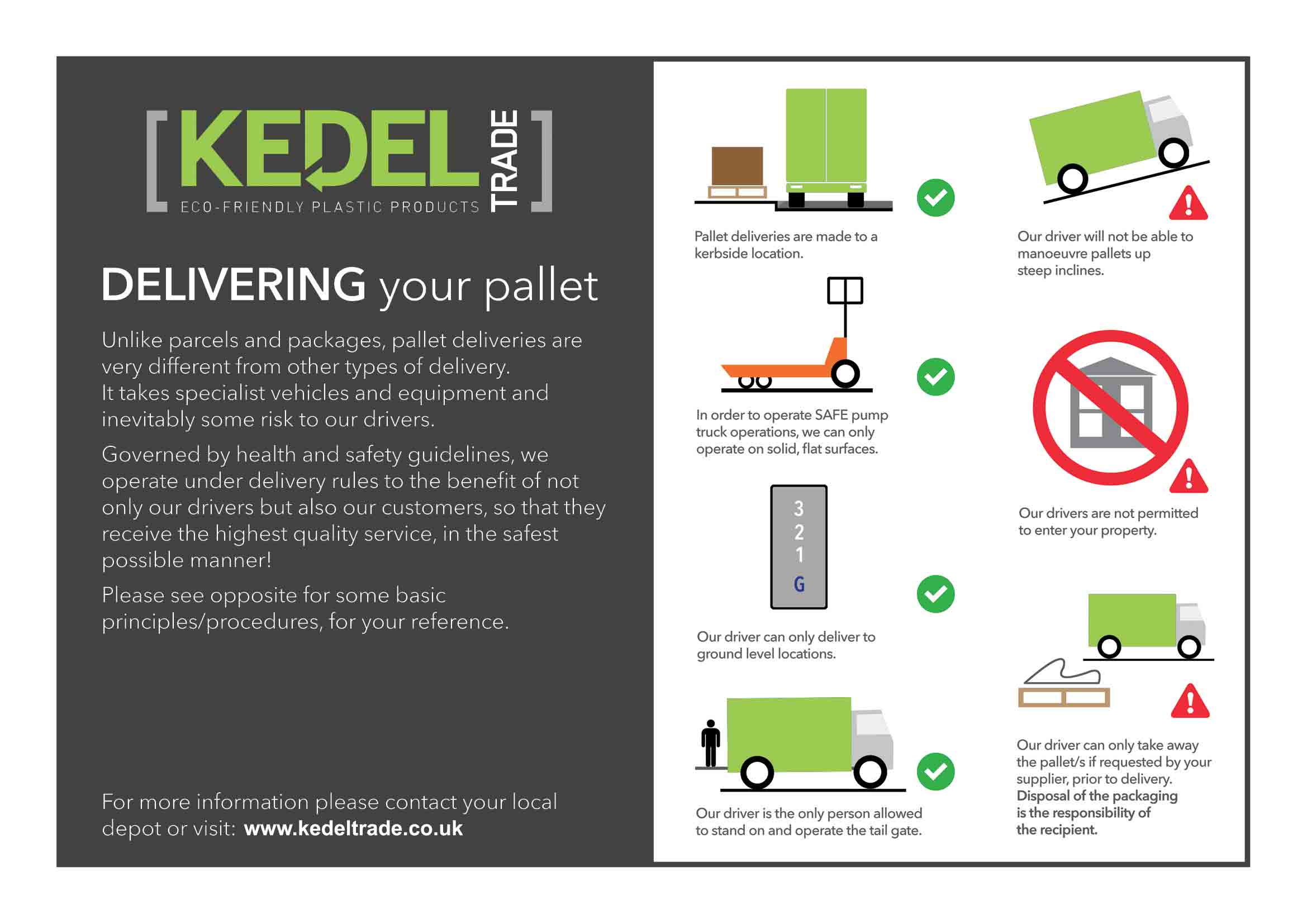 NOTIFICATION
We instruct carriers to try to contact you at least an hour before delivering your goods to make sure you can receive them at the time they are likely to be delivered.
DELIVERY CHARGES
The precise shipping charge is shown when a product is put in the basket and is based on weight of goods and dimensions. Delivery costs can often be reduced if planks and beams, etc, are cut to shorter lengths – call for advise if shipping seems high and you are happy to have shorter lengths. We only charge what it costs us to ship your goods.
IF YOU HAVE A PROBLEM WITH YOUR DELIVERY
If the delivery is late or has not turned up and our carrier has not contacted you, please contact us on 01282 861325 and we will sort it out directly with them. Though we ask all carriers to call you one hour before delivery this cannot be guaranteed.
If you are missing part of your delivery or if your goods are damaged in any way please contact us immediately and ensure that you have marked the delivery as being incomplete or damaged with the carrier on receipt. Missing goods will be sent as soon as possible. Damaged goods will normally need to be returned to Kedel Ltd.
CUSTOMER COLLECTIONS
Customers who wish to collect from our depot in Burnley to avoid delivery costs should first contact Kedel Limited on 01282 861325 to place an order by phone. Collections are restricted and access is on an appointment basis only. The Production Manager will contact you to arrange collection when your order is ready.
On arrival at the depot there are instructions on the gate with a mobile number to call - 07305 383694. Please do not drive through the gate before calling this number and receiving further instructions. Masks are currently mandatory.
RETURNS POLICY
Please check the goods on arrival to ensure that they are acceptable. If they have been found to be incorrect, damaged or faulty, please notify our office within 48 hours, and give written notification either by email or post, including details of the defect and photographs, within 5 days of receipt of the goods. After examination of these details and if we accept liability we will arrange for collection and replacement, or a full or partial refund.
We will accept returns of goods which are not faulty and which are surplus to requirements within 7 days provided they are returned in good condition at the customer's expense. We will refund the value of the goods less the initial cost of shipping, and less a handling charge of 20%.