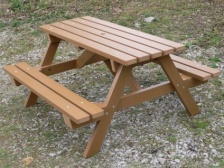 Thames Picnic Table Recycled PlasticFrom: £482.50
A traditional style Picnic Table, but not made from wood though often mistaken for it. These picnic tables will never rot, crack, or splinter. Made from Plastic Wood manufactured from recycled CD cases and old coat hangers. Colours are UV protected against fading, are non-absorbent, hygienic and easy to clean. Remove graffiti with WD40 and ultra fine wire wool. Perfect for anyone wanting the aesthetics of wood but none of the maintenance issues.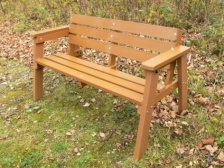 Thames Garden Bench - 3 Seater Recycled Plastic Wood£379.00
A beautiful 3 Seater Garden Bench made from British Recycled Plastic. Fully assembled. Manufactured from recycled CD cases and old coat hangers. Does not warp, crack or splinter and no surface splinters for little fingers. The UV protected colours are embedded in the plastic during manufacture, so no need for painting. A unique maintenance free garden or recreational area bench.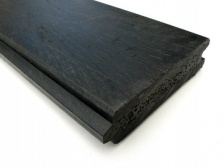 Recycled plastic lumber - mixed plastics - Tongue and Groove - 147 x 34mm£26.60
Eco-friendly, maintenance-free tongue and groove boards that are ideal for a variety of applications and will last, at least, 25 Years.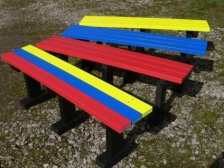 Multicoloured Tees Bench - Garden/Park - No back - Recycled PlasticFrom: £145.35
A simple, robust outdoor bench for school playgrounds, recreational areas,community play areas or a private garden. Anywhere children sit or play. Will never rot and lasts for generations. Recycled plastic throughout.