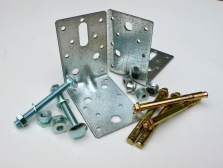 Ground Anchor Security Kits for Outdoor FurnitureFrom: £23.10
Ground Fixing Brackets for Picnic Tables and Benches - one pair of brackets supplied with bolts
A pair of Simpson Strong Tie right angle fixing brackets and expansion bolts, for fixing your bench or picnic table into a concrete base. Choose short bolts for fixing to flags or longer bolts for fixing into concrete. Helps prevent anyone from removing your outdoor furniture without your permission. No guarantee is given of course, as certain rascals coming equipped with the right tools can remove anything, but you don't want to give them an easy time. Made from rust resistant steel and with shear nuts, whose outer section will break away once tight, making it near impossible to remove with a spanner or socket set.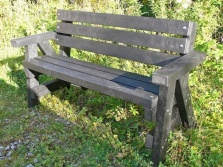 Recycled Plastic Garden Bench with Arms and Back RibbleFrom: £570.00
Robust, maintenance-free recycled plastic bench that will not rot.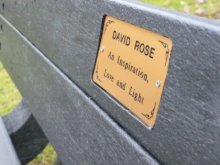 Remembrance Plaque - Memorial Plaque - Sponsors Plaque£49.00
All our products can have one of these brass effect memorial plaques with up to 35 words. A great way to honour or remember someone special. The brass effect is embedded in the plastic plaque and is less prone to tarnishing. Cost includes cutting of a neat rebate to fit your plaque in your outdoor furniture during manufacture.
Ribble Garden bench - with backrestFrom: £483.00
The Ribble benches are extremely robust recycled plastic benches, made from the type of waste plastic we all put in our recycling bins. This 4 seater garden bench is equally at home in a country park as it is in a private garden. It will never rot, never need paint and is too heavy to blow away or steal. Graffiti can be removed with WD40 and some wire wool. Park benches of this type are no maintenance and never need replacing.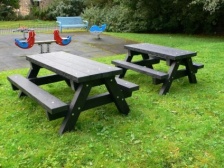 Ribble Junior Picnic Table - Recycled Plastic - Heavy DutyFrom: £448.00
Robust, Easy to clean, and Eco-friendly. This junior size picnic bench is perfect for any park or playground, and will last a life time.


Ribble Picnic Table - Recycled plasticFrom: £615.00
A standard recycled plastic picnic table that seats 6 comfortably. Will last for generations without any maintenance. Great for lunch time breaks. Contains equivalent waste plastic of approx 255 four pint plastic milk bottle cartons for the 1.5m bench, and 375 in the 2m version. Will never rot or need painting. Entirely maintenance free.