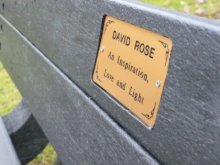 Remembrance Plaque - Memorial Plaque - Sponsors Plaque£33.33
All our products can have one of these brass effect memorial plaques with up to 35 words. A great way to honour or remember someone special. The brass effect is embedded in the plastic plaque and is less prone to tarnishing. Cost includes cutting of a neat rebate to fit your plaque in your outdoor furniture during manufacture.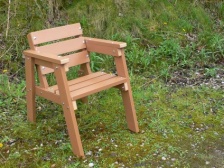 Thames Chair - recycled plastic wood£129.17
A Recycled Plastic Wood Garden or Patio Chair that will not rot. Leave safely outside all the year round. The colour is UV protected and embedded in the plastic. Manufactured out of crushed CD cases recycled from the music and entertainment industries.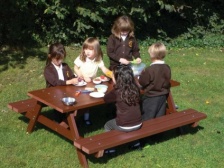 Thames Childrens | Kids Picnic Table | Delux£407.49
A beautiful wood like children's picnic table made from crushed CD cases. This synthetic wood table is extraordinary in that it both looks and feels like wood, but behaves like plastic. Lasts forever and looks good forever without any painting or other maintenance. Safe to leave outside in all weathers the year round. The cost is a one off cost that works out much cheaper than repeatedly buying wood tables that degrade quickly and need a lot of attention. Colours UV protected against fading.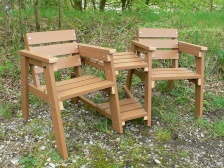 Thames Companion Seats - Recycled Plastic Wood£300.00
A simple traditional designed companion seat but without the traditional tendency to rot. Never needs paint and will last for decades after wooden chairs have rotted away. Colours UV protected to reduce fading ion direct sunlight. Made from recycled plastic wood manufactured out of crushed CD cases and old coat hangers.