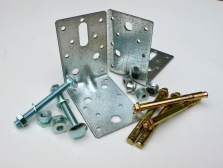 Ground Anchor Security Kits for Outdoor FurnitureFrom: £23.10
Ground Fixing Brackets for Picnic Tables and Benches - one pair of brackets supplied with bolts
A pair of Simpson Strong Tie right angle fixing brackets and expansion bolts, for fixing your bench or picnic table into a concrete base. Choose short bolts for fixing to flags or longer bolts for fixing into concrete. Helps prevent anyone from removing your outdoor furniture without your permission. No guarantee is given of course, as certain rascals coming equipped with the right tools can remove anything, but you don't want to give them an easy time. Made from rust resistant steel and with shear nuts, whose outer section will break away once tight, making it near impossible to remove with a spanner or socket set.


Thames Childrens Kids Picnic Table£239.00
This small two seater children's picnic table is made from a unique plastic wood material that looks and feels like wood, but will never need paint and will never rot, even if left outside in all weathers. Ideal for nursery and early years.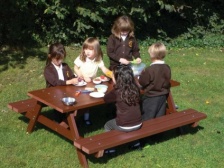 Thames Childrens Kids Picnic Table Delux£514.00
A beautiful wood like children's picnic table made from crushed CD cases. This synthetic wood table is extraordinary in that it both looks and feels like wood, but behaves like plastic. Lasts forever and looks good forever without any painting or other maintenance. Safe to leave outside in all weathers the year round. The cost is a one off cost that works out much cheaper than repeatedly buying wood tables that degrade quickly and need a lot of attention. Colours UV protected against fading.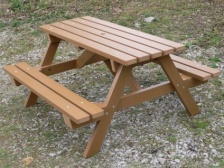 Thames Picnic Table Recycled PlasticFrom: £482.50
A traditional style Picnic Table, but not made from wood though often mistaken for it. These picnic tables will never rot, crack, or splinter. Made from Plastic Wood manufactured from recycled CD cases and old coat hangers. Colours are UV protected against fading, are non-absorbent, hygienic and easy to clean. Remove graffiti with WD40 and ultra fine wire wool. Perfect for anyone wanting the aesthetics of wood but none of the maintenance issues.