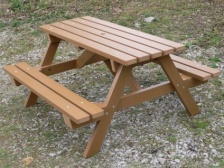 Thames Picnic Table | Recycled PlasticFrom: £482.50
A traditional style Picnic Table, but not made from wood though often mistaken for it. These picnic tables will never rot, crack, or splinter. Made from Plastic Wood manufactured from recycled CD cases and old coat hangers. Colours are UV protected against fading, are non-absorbent, hygienic and easy to clean. Remove graffiti with WD40 and ultra fine wire wool. Perfect for anyone wanting the aesthetics of wood but none of the maintenance issues.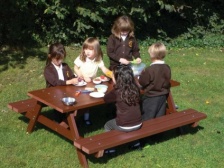 Thames Childrens | Kids Picnic Table | Delux£427.86
A beautiful wood like children's picnic table made from crushed CD cases. This synthetic wood table is extraordinary in that it both looks and feels like wood, but behaves like plastic. Lasts forever and looks good forever without any painting or other maintenance. Safe to leave outside in all weathers the year round. The cost is a one off cost that works out much cheaper than repeatedly buying wood tables that degrade quickly and need a lot of attention. Colours UV protected against fading.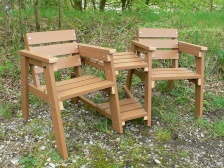 Thames Companion Seats - Recycled Plastic Wood£315.00
A simple traditional designed companion seat but without the traditional tendency to rot. Never needs paint and will last for decades after wooden chairs have rotted away. Colours UV protected to reduce fading ion direct sunlight. Made from recycled plastic wood manufactured out of crushed CD cases and old coat hangers.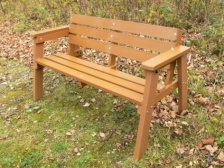 Thames Garden Bench - 3 Seater | Recycled Plastic Wood£300.12
A beautiful 3 Seater Garden Bench made from British Recycled Plastic. Fully assembled. Manufactured from recycled CD cases and old coat hangers. Does not warp, crack or splinter and no surface splinters for little fingers. The UV protected colours are embedded in the plastic during manufacture, so no need for painting. A unique maintenance free garden or recreational area bench.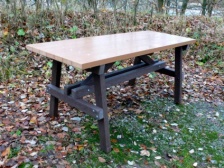 Thames Patio Table - recycled plastic wood/mixed plastic base£238.44
Available in Light Oak, Black Walnut and Mahogany. Maintenance-free, Eco-friendly, Easy to Clean and has a wood textured finish.