The Education Show
20 March 2012 | Lewis

"We came, we saw, we conquered" at 'The Education Show 2012'
Well maybe that heading could be described as a slight exaggeration, but we certainly had a good show at the Birmingham NEC, and have greatly expanded our market.
The NEC hall 4 was filled with wonderful creative children's products and it was really hard not to wander off to play with the many exciting educational toys on display, but we had little chance, as our own colourful display brought a constant stream of visitors.
School Business Managers and Head Teachers are keen to reduce their recurrent spending on outdoor classroom and school yard furniture, and the maintenance free quality of recycled plastic, as well as its environmentally friendly credentials is proving very attractive.
We also enjoyed the attention of several major contractors and suppliers of educational products wanting to stock our designs, or have our Industrial Design Team create educational play furniture designs exclusively for them.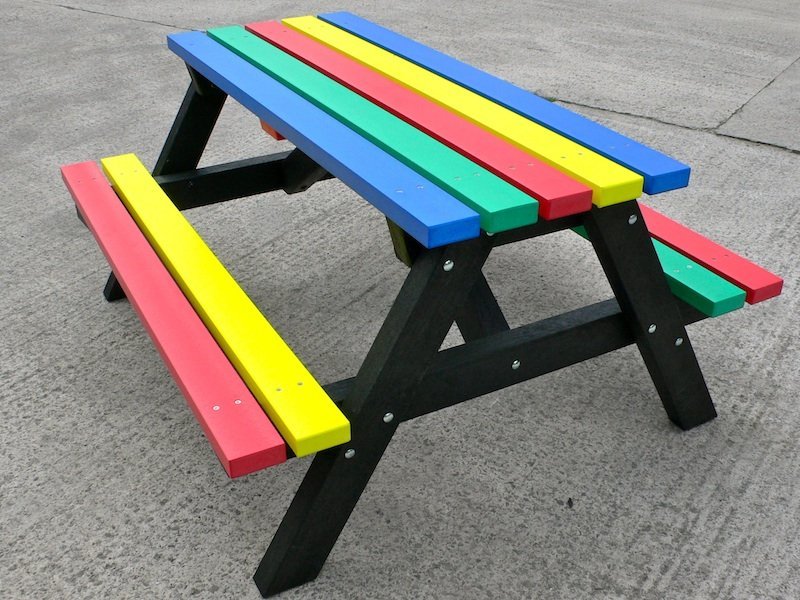 The colourful plastic wood tops of our picnic tables and benches caused a lot of excitement.
Until Kedel appeared on the recycled plastic products scene, there was only one supplier of picnic tables and benches with brightly coloured recycled plastic slats. Now there are two, but it seems Kedel's plastic wood is being seen as a superior product.
Visitors were heard remarking how much our synthetic wood looked and felt like real wood, providing all the aesthetic beauty of real wooden lumber, but all the maintenance free advantages of plastic.
Schools may be very keen to lower their maintenance and replacement costs of outdoor furniture but still have an eye for quality. They loved the fact that our recycled plastic wood could tick the right boxes for environmental friendliness, yet look so much like wood that it could easily be mistaken for the real thing.
Many people stopped to admire the bright colours, but were genuinely taken aback when we explained that this was in fact recycled polystyrene, with the same weight and density as some South American hard woods.
We had an email last year from a lady complaining that we had sent her wood instead of maintenance free recycled plastic.
The email was entitled " Product not as described". It caused quite a stir in our workshops as we had of course sent her our synthetic wood, made from old CD cases and coat hangers.
On the last day of the show, the last hour in fact, we enjoyed a visit from a muslim cleric, a senior Imam from Pakistan, who bartered with us for a while, and finally walked off happily with one of the samples on our stand. It was a beautiful children's play wall clock, in recycled plastic HDPE (see left).
Since the clock wouldn't fit in his bag, one of our directors took the nylon cord of his own exhibition badge, and threaded it through the screw holes (for wall fixing) of the clock base, forming a useful carrying handle.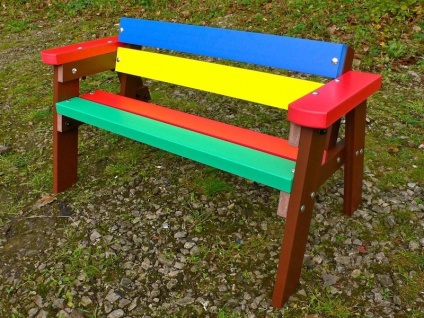 He seemed very pleased, and then spent several minutes examining our bright synthetic wood children's benches (see right), finally deciding to have some of them for his school.
When you see how good it looks it makes it all the harder to understand why we still only recycled 7% of our plastic, and landfill sites contain as much as 30% plastic waste.
It's important to show our children what can be done and is being done with the waste plastic they see collected from their door steps, and then perhaps the future will bring greater enthusiasm to recycle all the plastic we use instead of such a tiny fraction.