New Product - Recycled Plastic Sand and Water Train
18 February 2014 | Lewis
Sand and Water Train in Recycled Plastic HDPE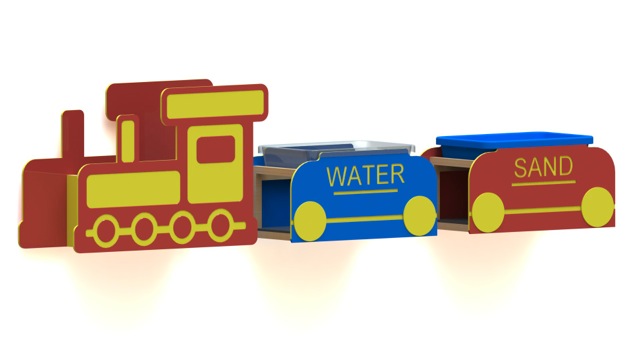 Made from 12mm thick HDPE sheet and Extruded Plastic Wood this beautiful sand and water train is due for release at the end of June 2014 and will ship flat packed to keep shipping costs to the minimum, so we can offer free shipping.
The carriages have the words water and sand etching into the sides of the relevant carriages to help children learn to read by subliminal association, while playing happily with sand and water and driving the train.
The train has a steering wheel and the seat lifts to reveal a handy box for storing related sand a water tools and toys.
Our HDPE sheet from which the train and carriages are made is in bright UV protected colours and can remain outdoors the year round, though would be equally at home indoors.
The tough surface is hygienic and easy to clean with normal household cleaners, and can take rough handling by children aged from 3 - 7 years.
The whole life costs of recycled plastic outdoor classroom role play furniture and toys is far less than the equivalent wooden versions as it will last at least 5 times longer.
Young children will continue to enjoy playing with these products for decades with little or no obvious wear and no rot, mould, warping, cracking or splinters.