Back Gate | Plastic Wood| Recycled PlasticFrom: £152.50
Recycled Plastic Back Gate. Will not rot, requires zero maintenance and has a 25 Year Guarantee. Much stronger than wood and is available in 4 different colours.


Brenton Padbolt | Gate BoltFrom: £3.88
This Brenton style Bolt is coated with epoxy black to produce a hard, chemical and solvent resistant finish that will withstand all weathers. The 8 inch x 1/2 inch steel bolt is ideal for gates of all kinds.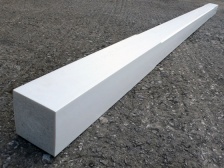 Recycled Plastic Wood Chamfered Porch Post | 88 x 88mm£87.50
A Chamfered Porch Post 88 x 88mm in Recycled Plastic Wood to match our Gallows Brackets. No rot, UV protected and maintenance free.