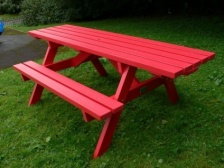 Derwent PicnicTable Extended ends - wheelchair pushchair friendly Recycled Plastic£785.00
Available in Red, Blue, Green, Yellow and Multicoloured.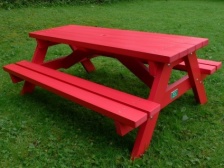 Derwent Recycled Plastic Picnic Table Picnic BenchFrom: £625.00
Available in Red, Blue, Green, Yellow and Multicoloured. Made from 100% crushed CD cases, these Derwent Recycled Plastic Picnic tables will never rot, crack, warp or splinter and can withstand outdoor environments that are regularly subjected to harsh weather conditions. Their appearance will stay the same throughout the years, making them far more cost effective than wood. This is a beautiful product that will last a lifetime.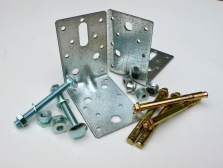 Ground Anchor Security Kits for Outdoor FurnitureFrom: £23.10
Ground Fixing Brackets for Picnic Tables and Benches - one pair of brackets supplied with bolts
A pair of Simpson Strong Tie right angle fixing brackets and expansion bolts, for fixing your bench or picnic table into a concrete base. Choose short bolts for fixing to flags or longer bolts for fixing into concrete. Helps prevent anyone from removing your outdoor furniture without your permission. No guarantee is given of course, as certain rascals coming equipped with the right tools can remove anything, but you don't want to give them an easy time. Made from rust resistant steel and with shear nuts, whose outer section will break away once tight, making it near impossible to remove with a spanner or socket set.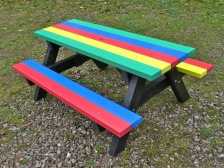 Junior Multicoloured Picnic Table Ribble Range Recycled PlasticFrom: £383.41
A fun looking multicoloured picnic bench specifically made for children and their friends to enjoy. Available in Red, Blue, Green, Yellow and Multicolours.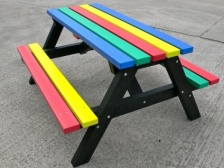 Multicoloured Picnic Table Furniture Range Recycled PlasticFrom: £466.96
A truly unique recycled plastic picnic bench with robust mixed plastic base but with beautiful brightly coloured synthetic wood tops. The aesthetics of wood combined with the advantages of plastic. Easy to clean, long-lasting and eco-friendly. Available in Red, Blue, Green, Yellow and Multicolours, and Lengths 1.5 - 2m.​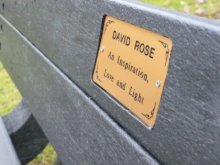 Remembrance Plaque - Memorial Plaque - Sponsors Plaque£49.00
All our products can have one of these brass effect memorial plaques with up to 35 words. A great way to honour or remember someone special. The brass effect is embedded in the plastic plaque and is less prone to tarnishing. Cost includes cutting of a neat rebate to fit your plaque in your outdoor furniture during manufacture.