Recycled Mixed Plastic Lumber 100 x 50mmFrom: £35.69
100 x 50mm Recycled Mixed Plastic can be used as bench seating of all kinds, as plastic joists and framework on walkways or decking, pathways, balconies, fishing pegs and more. Provides strength and durability in occasional or continual damp conditions. Never rots and looks great year in year out. The possibilities are endless. Use this material once and you'll find yourself using it again and again.


Recycled Mixed Plastic Lumber 50 x 50mm£16.02
Studding that will not rot. Use as a Damp Proof Course at the foot of wood studding. No Maintenance ever required. Eco-friendly recycled plastic.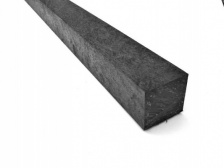 Recycled Mixed Plastic Lumber 50 x 50mm Ultra£13.51
Can be use for many applications such as for studding in damp conditions, or framing, or as Damp Protection below wooden studding. Will never rot.