Brenton Padbolt | Gate BoltFrom: £3.88
This Brenton style Bolt is coated with epoxy black to produce a hard, chemical and solvent resistant finish that will withstand all weathers. The 8 inch x 1/2 inch steel bolt is ideal for gates of all kinds.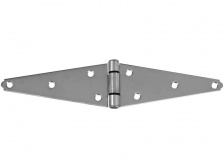 Butterfly Hinge for Bi-fold Gates£22.27
Ideal for bi-fold gates on domestic, school and commercial properties.


Hinge SetsFrom: £17.50
Traditional hinge comprising of a hook for the frame or post and a band for the door or gate. Available in Epoxy Black or Galvanised finishes and sizes ranging from 10" to 18".