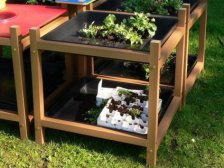 Children's Gardening / Exploration Table - Recycled Plastic£149.00
Modular exploration table for gardening, sand and water play. The recycled plastic frame will wipe clean and does not rot or attract mould. Trays are removable. Perfect for Indoor or Outdoor Classrooms, Nurseries and Playgroups. Can be left outside all year round.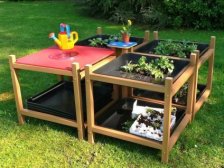 Children's Gardening Exploration Table - Set of 4 Recycled Plastic£525.00
Set of four Gardening/Exploration tables (one play sink module) complete with connecting link, sand and water trays. Great for developing little minds. These garden work tables are ideal for educating nursery and early years children. Easy to clean with normal household detergents. Made from 100% British Recycled Plastic and will never rot. UV protected colours.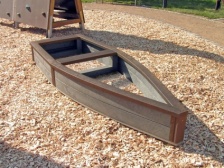 Children's Recycled Plastic Adventure Ship Sand Box / Raised BedFrom: £843.89
A simple robust adventure ship to stimulate creative role play. Add sand to use as a sand box or soil for a raised bed. Made from heavy duty recycled plastic this is a piece of outdoor play furniture that will never rot, and no splinters for little fingers. Perfect for nurseries and kindergartens. No maintenance needed.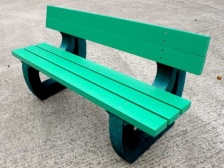 Colne 3 seater Sports / Leisure Bench Recycled Plastic£410.57
Like the Colne 4 seater sports leisure bench this 3 seater version is perfect for outdoor use in recreational, sports, park and play areas. This recycled material does not absorb water, so a quick wipe after rain and you can sit right down without getting damp. The green seat slats look and feel just like wood but contain none and will never rot or need paint.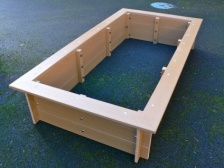 Delux Raised Bed with Seat Surround - British Recycled Plastic£449.99
An ideal raised bed for the outdoor classroom. Does not rot. Lasts a lifetime.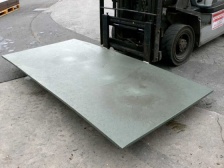 Recycled Mixed Plastic Sheet /Board (D)25mmFrom: £58.60
Made entirely from 100% British Recycled Mixed Plastic, our Sheets are tough enough for a variety of ground, fencing and wall installations. 25 years guaranteed. Maintenance-free.