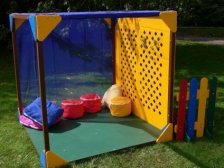 Cube Play Den Play House Multicoloured Recycled Plastic£965.42
A simple starter Play Den with additional modules. Ideal for role play or teaching. Designed to remain outdoors all year round (or indoors). Made from up to 80% Recycled British Plastic, the Cube Play Den is eco-friendly, colourful and stimulating. A maintenance-free product that will last generations. No rot, mould or splinters, non absorbent, hygienic and easily cleaned. Extremely hard wearing and simple to assemble. Trellis, planter and fence modules supplied separately.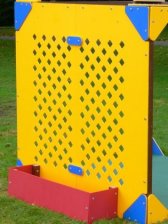 Cube Play Den Trellis and Planter Module£321.76
This recycled plastic Trellis and Planter is designed as a feature wall for the Kedel Outdoor Cube Play Den and together with the fence module it completes a stimulating, colourful outdoor play area, that can be left outdoors all year round. Maintenance free, recycled and recyclable.