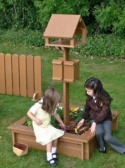 Beastie Box Recycled Plastic£559.00
This (recycled) Plastic Wood Beastie Box was design especially for the KS1/2 Mini Beastie Education Project for schools and nurseries. It combines a Raised bed with seat surround for outdoor lessons, an Insect Box, Bird Box, Solitary Bee Box and Butterfly Box all in one unit. It will never rot, graffiti is easy to remove with very fine wire wool and WD40 and it looks good without maintenance or paint for decades.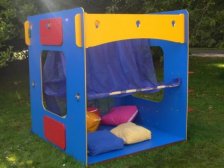 Children's Cosy Den / Play Theatre / Play Shop - Recycled Plastic£983.66
A Children's Outdoor or Indoor Cosy Den or a Little Play Shop or A Mini Play Theatre - this is a Play Den that can be all of these depending how you arrange things. Made entirely from Recycled British Waste Plastic in attractive bright colours, UV protected against fading and totally maintenance free.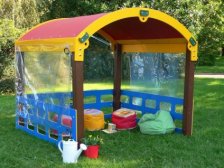 Children's Play House (Curved roof) Play Den Recycled Plastic£1,126.33
A beautiful, brightly coloured, Children's Play Den with fully covered roof, and holes for fixing various types of plastic or cloth side curtains to keep out the wind (curtains not included). A very solid build made from recycled and recyclable plastic. Nickel plated fixings which do not rust and nothing in the den can rot. Maintenance free. Can be left out in all weathers. UV protected colours to reduce fading in direct sunlight.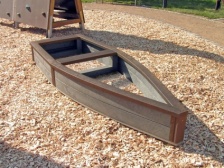 Children's Recycled Plastic Adventure Ship Sand Box / Raised BedFrom: £843.89
A simple robust adventure ship to stimulate creative role play. Add sand to use as a sand box or soil for a raised bed. Made from heavy duty recycled plastic this is a piece of outdoor play furniture that will never rot, and no splinters for little fingers. Perfect for nurseries and kindergartens. No maintenance needed.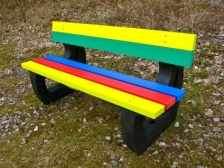 Colne Rainbow Bench Garden Bench Multicoloured Recycled PlasticFrom: £410.57
Available in Highly Visible Bright Colours and Highest Level of UV Protection - keeping it looking brand new for decades.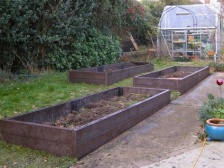 recycled mixed plastic raised bedsFrom: £194.00
Robust Recycled Mixed Plastic Raised Bed in Black or Nut Brown. Widely used in community allotments and educational institutions nationwide. A long life product with no maintenance headaches. Does not rot. Available in 3 sizes and three heights.