Recycled Plastic Garden Bench 3 Seater Colne by Kedel£364.70 £340.76
Colne 3 seater bench in recycled plastic lumber and moulded bench ends. Extremely robust! Never needs paint, does not warp, crack or splinter. Will never rot. When all the wooden benches have rotted away this bench will still look much the same as it did when new. Excellent value for money.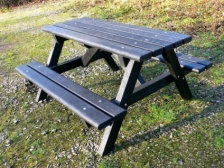 Ribble Picnic Table - Bullnose Version£542.35
100% Maintenance-free, eco-friendly Recycled Plastic Bullnose Picnic Table. Designed with a wood-like grain finish and is available in Black with extended legs.