Colne 3 seater garden bench moulded endsFrom: £349.00
Colne 3 seater bench in recycled plastic lumber and moulded bench ends. Extremely robust!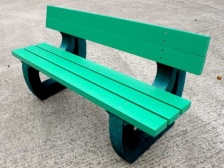 Colne 3 seater Sports / Leisure Bench | Recycled Plastic£430.00
The Colne 4 seater sports or leisure bench is intended for recreation areas such as cricket clubs, bowling greens or anywhere the green colour of the slats and legs seems especially appropriate. In country parks it will blend in with the greenery. The slats look and feel like wood but are made from recycled CD cases and old coat hangers. Unlike wood they will never rot and never need painting. Entirely maintenance free in fact.


Colne 4 Seater garden bench moulded ends£424.00
A 4 seater version of our most popular moulded end recycled plastic - The Colne 4 seater bench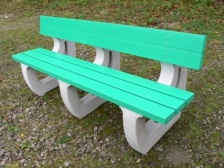 Colne 4 seater Sports / Leisure Bench | Recycled Plastic£516.00
This recycled plastic is just the thing for a sports ground or leisure centre. Non-absorbent, easy to clean, UV protected and Graffiti resistant this is one tough bench. Heavy weight with holes for bolting down at the base of each leg deters vandals and thieves. Recycled plastic will never rot and will last as long as the grass grows.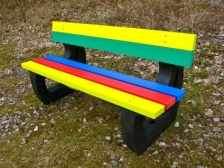 Colne Rainbow Bench | Garden Bench | Multicoloured | Recycled PlasticFrom: £419.00
Available in Highly Visible Bright Colours and Highest Level of UV Protection - keeping it looking brand new for decades.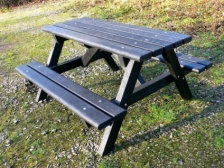 Ribble Picnic Table - Bullnose Version£519.00
100% Maintenance-free, eco-friendly Recycled Plastic Bullnose Picnic Table. Designed with a wood-like grain finish and is available in Black with extended legs.