Ribble Picnic Table - Recycled plasticFrom: £479.65
A standard recycled plastic picnic table that seats 6 comfortably. Will last for generations without any maintenance. Great for lunch time breaks. Contains equivalent waste plastic of approx 255 four pint plastic milk bottle cartons for the 1.5m bench, and 375 in the 2m version. Will never rot or need painting. Entirely maintenance free.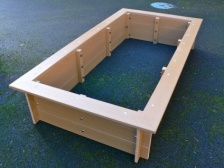 Delux Raised Bed with Seat Surround - British Recycled Plastic£395.83
An ideal raised bed for the outdoor classroom. Does not rot. Lasts a lifetime.


Ribble Garden bench - with backrestFrom: £365.75
The Ribble benches are extremely robust recycled plastic benches, made from the type of waste plastic we all put in our recycling bins. This 4 seater garden bench is equally at home in a country park as it is in a private garden. It will never rot, never need paint and is too heavy to blow away or steal. Graffiti can be removed with WD40 and some wire wool. Park benches of this type are no maintenance and never need replacing.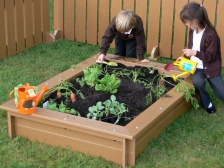 Delux Raised Bed (L)1.4 x (W)1m x 260mm with Seat Surround£213.33
This 1.4 x 1m raised bed is specially designed for the outdoor classroom. Has ample seating for small children all round the edge. Made entirely from recycled plastic. Does Not Rot. Matches our Mini Beasties Box