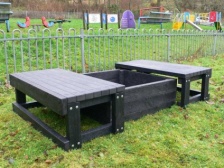 Sand Pit with 2 Seats | Recycled Plastic£658.35
A tough enduring piece of outdoor play furniture with seating - a Sandbox that will never rot, and will provide generations of fun with little or no maintenance. Easily cleaned with household cleaners or jet wash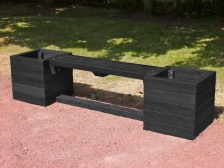 Ribble Planter Bench - recycled plasticFrom: £624.91
This novel recycled plastic bench, flanked by two planters, is a simple but practical way to use the space you have intelligently, and enjoy sitting among the flowers on a clear day. Given favourable weather it could potentially be quite romantic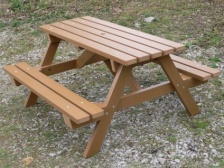 Thames Picnic Table | Recycled Plastic£482.50
A traditional style Picnic Table, but not made from wood though often mistaken for it. These picnic tables will never rot, crack, or splinter. Made from Plastic Wood manufactured from recycled CD cases and old coat hangers. Colours are UV protected against fading, are non-absorbent, hygienic and easy to clean. Remove graffiti with WD40 and ultra fine wire wool. Perfect for anyone wanting the aesthetics of wood but none of the maintenance issues.


Ribble Picnic Table - Recycled plasticFrom: £479.65
A standard recycled plastic picnic table that seats 6 comfortably. Will last for generations without any maintenance. Great for lunch time breaks. Contains equivalent waste plastic of approx 255 four pint plastic milk bottle cartons for the 1.5m bench, and 375 in the 2m version. Will never rot or need painting. Entirely maintenance free.


Ribble Garden bench with arms and backFrom: £443.07
The complete traditional bench with arms and back, but this recycled plastic bench will never rot, warp, crack or splinter and will stay looking good for decades with no maintenance whatsoever other than cleaning occasionally.